Frenzy Snowman Smasher
released by Laguna_999 and Thunraz on Monday, December 08, 2014
Ludum Dare 31 -- entire Game on one screen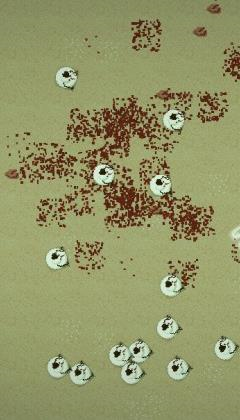 Description
The satanic evil snowmen are attacking. You are doomed. Your end is nigh. The only thing you can do - make it hard for them. Try to beat your Highscore!
So another Ludum Dare (#31) Project "Entire Game on one screen". This two-men project was written within 48 hours in HaxeFlixel. Therefore we used FlashDevelop, git, aseprite for graphics as well as Cubase 5.5 and SFXR for sounds. We feature a nice and juicy game with different weapons and powerups, so you have maximum fun, slaughtering (did we mention the gore level? :D) all the snowmen. There is also a full soundtrack plus soundeffects, as well as a highscore counter.
For those who like it a bit harder we provide a ultra-hard-insane-monster-mode. Just kidding. Please see the additional links section for more details.
Additional Links
Frenzy Snowman Smasher on itch.io